Central Mongolia is a region in Mongolia. It is where most visitors begin their adventures, arriving by plane or rail in Ulaanbaatar. The nation's capital and largest city, Ulaanbaatar contains an intriguing combination of the traditional and modern, where nomads' gers and wooden temples sit side by side with concrete apartment buildings and modern high-rises.The steppes of Central Mongolia, beginning only a short distance from the avenues of Ulaanbaatar, are home to many of the nomadic families who travel the plains with their livestock, as well as small towns and ger settlements. However, like much of Mongolia, most of the region is characterized by seemingly endless expanses of uninhabited countryside. In addition to its natural wonders, there are many historical sights to be explored in Mongolia's heartland, particularly in the Orkhon River Valley, which contains archaeological remains dating back several centuries. Few traces remain of Kharakhorum, the 13th-century capital of the Mongol EmUpire, but the nearby temple of Erdene Zuu was reputedly built from its ruins. The wall surrounding this vast monastery complex, which houses spectacular Buddhist art and architecture, is made up of over one hundred white stupas.
Top Attractions in Central Mongolia
ULAANBAATAR
Capital of present day Mongolia was founded in 1639 as a nomadic Buddhist monastic centre which was dedicated to Mongolian first head of Buddhism. Ulaanbaatar city with a four hundred year history settled permanently at its present location, the junction of Tuul and Selbe rivers in 1778. Like nearly half of total population, the capital city itself is nomadic. It changed location twenty-eight times, with each location being chosen ceremonially. The triumph of the Democratic Revolution in 1921 led Ulaanbaatar toward the rise of modern architecture and an urban development era. In the twentieth century, Ulaanbaatar grew into a major manufacturing center.
Ulaanbaatar has a history to honor, stories to tell, picturesque landscape to present, mysterious temples and monasteries, fancy modern buildings. Its population as of 2016 was over 1.4 million, almost half of the country's total population.
People who have visited Ulaanbaatar witness its unique beauty. The traditional Mongolian felt Ger stands among a modern glass skyscrapers. People dressed in business suits rubbing shoulders with people in Mongolian traditional dressing (deel) on the downtown boulevards are unique scenes of the city that elicit excitement about the mixture of Western and Eastern cultures and contrast between modern and traditional lifestyles. Contemporary Ulaanbaatar is a rapidly evolving, expanding and fast growing metropolitan city. A railroad and an international airport connect the city with China and Russia. The scenic wooded peaks of the Hentiyn Mountain extend to the northeast of the city. We assure that Ulaanbaatar offers something surprising and exciting for everyone.
Waterfall ulaan tsutgalan orkhon
It is a waterfall on the Ulaan River cascades from an impressive height of 20 meters, and it extends for 100 meters from the Orkhon River. The Orkhon River flows through basalt rocks from the Gyatruu range to Kharkhorin soum. The waterfall is a great spot for bird watching and fishing. You can also visit a local horsemen family. There we have an opportunity to experience their way of life, their culture and traditions.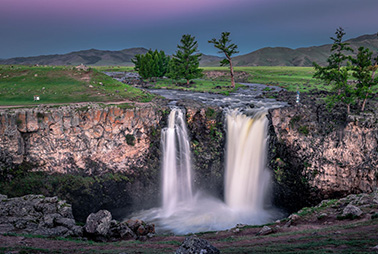 Kharkhorin and erdene zuu monastery
The sites of this ancient capital of Mongolia Kharkhorin ( spelled also Kharkhorin) and the Erdenezuu monastery with their 108 stupas are undoubtedly at great interest to travelers. Located 370 km away from Ulaanbaatar Elevation is 1600 meters above sea level. Genghis Khan's fabled city was founded in 1220 in the Orkhon valley, at the crossroads of the Silk Road . Building was completed by his son, Ogedei Khan, after Genghis' death, but Kharkhorin served as the capital for only 40 years before Kublai Khan moved it to what is now Beijing . Following the move, and the subsequent collapse of the Mongolian empire, Kharkhorin was abandoned and then later destroyed by hordes of Manchurian soldiers. The symbolic ruins of Kharkhorin monumental walls (400 m of length) with 108 stupas, surround the first Buddhist monastery in Mongolia Erdenezuu Monastery, built in 1586. In 1792, it housed 62 temples and 10,000 lamas; which itself was badly destroyed during the Stalinist purges in 1930s. After democratic movement in 1990, it has become an active monastery again. Turtles carved from the stone marked the boundaries of the complex. Today it retains much of its former glory. Enclosed in an immense walled compound, the 3 temples within are dedicated to the 3 stages of Buddha's life: as a child, adolescent and adult. The main, central temple is called the Zuu of Buddha and has statues of Buddha as a child. Outside the monastery walls are 2 'turtle rocks'. Four of these once marked the boundaries of ancient Kharkhorin.
Tuvkhun monastery
On the peak of the Undur shireet with 2312 meters high, this locates in boundary of Arkhangai and Uvurkhangai aimags. It was erected by Zanabazar (1 st Bogd Gegen in Mongolia) in 1654 on the smooth grand of the south slope of steep rock with 20 meters high has 14 small temples. He created his famous script "Soyombo" there in 1680. This creation of the temple has enjoyed state protection since 1998 and was registered by UNESCO in the world heritage by grading "The most wonderful valuable object" in 1996.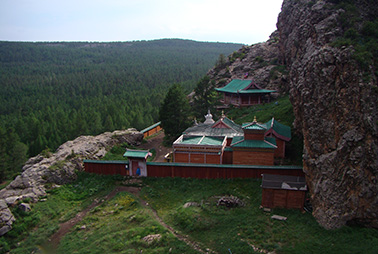 Khugnu khan mountain national park
Just in the border area of Bulgan, Ovorkhangai and Tuv provinces is the Khugnu Khan Mountains. This is a picturesque area with mountains, forests, steppes, Gobi-type desert and mineral water sources all in one location.(called also Elsen tasarkhai) Khugnu Tarny Monastery has two parts, an upper and a lower part. What is of interest is that the monastery belongs to three different times of Buddhism in Mongolia-ancient, middle and late. Prince Bishrelt of the former Tusheet Khan Aimag founded the monastery at the beginning of the 17th century. Next time Zanabazar dedicated to this Monastery to one of his teachers, Erdenetsorj. It was built in 1670-1680 It was destroyed during the war of Galdan Boshigt, a fighter opposed to Manchurian domination of Mongolia . Last time after democratic movement in 1990 restoration the temples led by the Granddaughter of the monks who was living at the monastery when it was destroyed.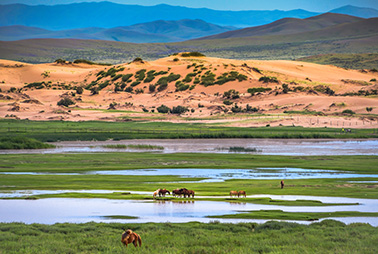 Khorgo terkhiin tsagaan nuur national park
Khorgo extinct volcano (spelled also Horgo) It was established to project the spectacular mountain scenery and endangered species of flora & fauna. It's surrounded by the Khangai Mountains, which reach as 3000 meters above the sea level. Over comparatively small area here there are a dozen or so extinct volcanoes. In the craters some of them are very tiny crystal- clears lakes. The Khorgo crater, situated at an altitude of 2.210 meters with a diameter of 20 meters and depth of 70 to 80 meters, is the most interesting at all. There is no lake in this crater, but clouds of steam jet out it is crevices forming ice moulds in winter , which from a distance look like large flocks of sheep scattered on the mountain. Near the crater there are dozens of small caverns with stalactites hanging from their ceiling and walls. Some time in past volcanic lava flooded the valleys nearby which are covered today with small woods and a great variety of berries and flowers. In the woods there are lots of deer, wild goat and other animals, as well as various kinds of birds. Terkhiin Tsagaan Lake. An immense mass of white-hot lava once blocked the bed of the River Terkh and it is water formed Lake Terkhiin Tsagaan, which is 16 kilometers in length, 20 meters in depth, and 61 square kilometers in this area. It is situated at an altitude of 2.060 meters. River Suman, cascading from the lake in stormy torrents, pierced through the rocks to form a canyon and several small lakes. The waters of the river are so turbulent that they do not freeze in the severest winter frosts. In the middle of the lake there is volcanic Island is covered with nests made of the fragrant grass Sam khan. Here all day long you hear the hum and cries of birds and the quacking of ruddy shell duck and many types of ducks sand geese &. Red deer , Siberian deer, wild bear, Great Cormorant is common in summer, nesting around the lake.