Northern Mongolia is one of the most beautiful areas of the country with density forested mountains, steppe, crystal rivers and lakes and often known as the home of the Reindeer people (Tsaatan People) and shamans. Thirty families of Tsaatan (reindeer breeders) with a unique living traditional culture live in taiga (Eastern and western Taiga) The northern region is home to various ethnic groups such as Khalkha, Darhad and Buryat as well as the spectacular taiga fauna and flora where reindeer herders breed reindeers.
Top Attractions in Northern Mongolia
Khuvsgul lake
Khuvsgul nuur is located in the northwest of Mongolia near the Russian border, at the foot of the eastern Sayan Mountains. It is 1,645 metres (5,397 feet) above sea level, 136 kilometres (85 miles) long and 262 metres (860 feet) deep. It is the second-most voluminous freshwater lake in Asia, and holds almost 70% of Mongolia's fresh water and 0.4% of all the fresh water in the world. The town of Hatgal is at the southern end of the lake.Khuvsgul lake is surrounded by majestic mountains covered with thick pine and larch forests where the unique wildlife of the region flourishes.
There is an excellent opportunity to become acquainted with the lifestyle and traditions of reindeer breeders who live in the mountain forests close to the lake."
Highlights: The Lake is ideal for kayaking, boating, fishing, horseback riding, trekking, birding, camping, wildlife viewing, and photography.
Tsaatan nomad family
The reindeer people live in the North West regions of Khuvsgul, which is pretty much like a taiga. Mountains are 3000 meters above the sea level; region has rocks thick grown forests. Herding places are rare and summer is short. However deer and yaks are suitable in the part of the land. Mongolian people called the Reindeer people -Tsaatan people. They are lived in Western and Eastern taiga. Nowadays 14 families are living in the western taiga and 18 families are living in the eastern taiga. The reindeer people move about 6-8 times a year. They use about 5-6 reindeer for transportation and the distance is 150-250km. Also there are shaman mostly tourists want to see them but they not like to see shaman. Because one chosen day they wear their religious customs, clothes like all kinds of metal objects were attached. Often they added so much weight to the custom that someone had to help the shaman to dress. Despite this, the shamans took great leaps and defied laws of gravity whilst under the trance. There are 2 kinds of shamans male (Zairan ) and female (Udgan). Female shaman is more powerful than male shaman.
Extinct volcano of uran uul
Bulgan,Hutagundur
This extinct volcano lies near the road, and stretches from Bulgan town to Moron, administrative city of Khuvsgul province for 80 kilometers northwest of Bulgan town through the territory of Kutag- Undur Soum. The reserve occupies a territory of 8 square kilometers with an elevation of 1,686 meters above sea level. It has been protected since 1965, and today enjoys the statue of " Natural Monument ". On the top of the extinct volcano is crater, 500 to 600 meters wide and 50 meters deep, filled with a small "crater lake" about 20 meters in diameter. There are green woods in the center of the Crater Lake. It is a really fascinating mountain. Red deer, Argali, Wild boar, Siberian Ibex, ruddy Shelduck, and duck are found in this area.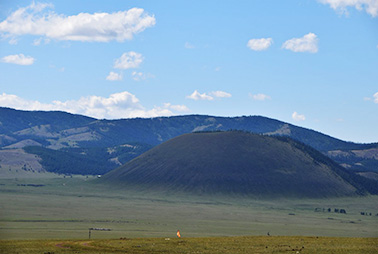 Amarbayasgalant monastery
The Amarbayasgalant Monastery is located 360 km north of Ulaanbaatar is one of the favorite destinations for visitors. It can be reached by jeep or by a combination of local train and motor vehicle ride. Built in 1727-1736, the Monastery was the second most important in Mongolia after Erdene Zuu Monastery in Kharkhorin. The Monastery established in 1727-1736 dedicated for Mongolian Religious First Bogd Gegeen. There were 27 kinds of big and small temples. According to the Mongolian History in 17th -19th century Amarbayasgalant was a Mongolian greatest pilgrimage Buddhist Center . There were about one thousand lamas living chanted, studied in this Monastery. According to the history Amarbayasgalant was sacked during the repressions of in1930-1940. In 1996 it was nominated by UNESCO as a Heritage Site. After 65 years monks organized "Tsam" Religious dance first time in Amarbayasgalant Monastery in 2002.